Find out everything you need to know about the MSC Seaview in our blog guide below.
Due to launch in June 2018, the MSC Seaview will be the second of MSC Cruises Seaside Class of ships. Designed identically to sister ship, MSC Seaside – which launches in December 2017 and homeports in Miami – MSC Seaview will offer Western Mediterranean cruises in her inaugural summer season, homeporting in Barcelona, Genoa and Marseille, with itineraries including stops in Sicily, Malta and Naples.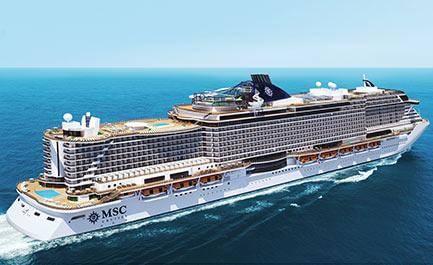 MSC Seaview, which will have a 5,179-passenger capacity and measure some 160,000-ton, will be built in Italy's Fincantieri shipyard – the largest cruise ship after sister Seaside to be constructed there. Both Seaside Class ships will feature a huge 463,000 sq.ft. of public space – designed to bring spectacular sea views to guests from almost anywhere on the ship and to allow for maximum time outdoors.
One of the most unique features of the Seaside Class ships will be the 360° Promenade with glass balustrades, which will run around the entire length of the ship. Seaview's design will also include panoramic glass elevators, suspended glass floors and cleverly-designed pool areas for incredible sea views.
Being billed as the "next generation of smart ships", both MSC Seaside vessels will use the latest technology available, including interactive screens for easy booking of excursions, shows and restaurants, smartphone apps to access cabins and even technology to allow for geo-location of children.
MSC Seaside Class Accommodation
Like sister ship MSC Seaside, MSC Seaview will offer passengers a range of luxurious and comfortable accommodation for all ages of travellers, and for all sizes of families.
MSC Seaview will provide 11 different kinds of cabins and suites, ranging from MSC Yacht Club Royal Suites to Interior Cabins. MSC Seaview will also add 14 aft corner suites with spectacular sea views, as well as terraced balcony cabins overlooking the promenade below and a selection of suites with outdoor tubs.
For large families travelling together, MSC Seaview will offer cluster cabins, designed to combine up to three-cabins – each with their own bathroom and balcony – which can accommodate between six to 10 people.
Suites with whirlpool baths and Grand Suites will be available to book, alongside Balcony, Oceanview and Interior Cabins.
Alongside Seaside's Yacht Club's Royal Suites, passengers will find Yacht Club Deluxe Suites and Yacht Club Interior Suites – which include luxury privileges such as 24-hour butler service, unlimited drinks and access to the exclusive MSC Yacht Club pool.
Every suite and cabin onboard MSC Seaview will come with either a double or two single beds, and will feature elegant design, air-conditioning and mini-bars as standard.
World-Class Dining with Incredible Views
Designed to allow guests to maximise the time they spend outdoors, many of MSC Seaview's dining options provide outside seating and all come with incredible views.
With the same dining options as sister ship MSC Seaside, Seaview will offer passengers nine dining options and some 20 bars and lounges. Two speciality restaurants, both created by world-renowned chef Roy Yamagunchi – will take guests on a culinary trip around the world.
Located on Deck 16 with stunning sea views, Roy Yamagunchi's Asian Market Kitchen and Teppanyaki restaurants will serve up delicious meals inspired by his Japanese heritage and love of traditional Asian food with a fresh modern twist.
For fresh Mediterranean dishes, guests can head to MSC Seaview's main restaurants, where kids are also catered for with a specially designed buffet for young shipmates. Unique dining experiences don't come much better than a sneaky look behind the scenes at Ocean Cay Restaurant – where a seat at the Chef's Table will see you tasting delicious seafood and finding out the secrets of the kitchen.
Pizza and pasta lovers will find plenty to keep them going back for more at The Biscayne Bay Buffet & Pizzeria. Filled with tasty and healthy Italian-style food, this is the ideal dining spot for all ages of the family. Those looking for the best steak onboard will find it at stylish steakhouse The Butcher's Cut. Serving up prime cuts from around the world, the steakhouse also offers an excellent wine, beer and cocktail list.
Members of MSC Yacht Club may also take advantage of the MSC Yacht Club Restaurant, situated at the top of the ship. This exclusive dining venue features freshly prepared meals and some of the best views onboard.
With some 20 bars and lounges to choose from, guests will find plenty of options to quench their thirst. From Seaview's sports bar to champagne bar and beach bar, there is a drink and venue for every style of passenger.
Prepare to be Entertained
As one of the leading European cruise providers, MSC knows a thing or two about keeping guests entertained. Promising not one but two "first-at-sea" experiences, MSC Seaside and Seaview are set to be the company's most fun-filled, action-packed vessels to date.
Families of all ages will find a world of entertainment onboard MSC Seaview – with clubs, shows and activities for babies to teens. Tiny tots – those aged 1 to 3 years, can join in at the Baby Club – where activities and games have been designed in partnership with Chicco® and guarantee to keep them entertained all-day long.
For Minis and Juniors, MSC Seaview has teamed up with LEGO®, for fun-filled days of colourful activities, whilst every age of teens are catered for with two separate clubs for 12-14s, and 15-17 year olds. Parents can relax in the knowledge that their teens are safely enjoying activities including a gaming room, teenage disco and teen-only cinema. Kids of all ages, including the "Big Kids" of the family, can also join in with daily activities such as onboard treasure hunts, pool games, contests and quizzes and themed parties.
Adults looking for entertainment during the day will find plenty to keep them occupied, with a range of enrichment programs and exercise classes. Passengers hoping to learn something new onboard can choose from dance lessons, music and art classes, photography lessons and wine tasting workshops, as well as attending lectures and talks from leading industry experts and even celebrities.
If guests want to keep active during their cruise, the MSC Seaview will also provide a selection of exercise classes, led by expert fitness trainers and instructors. Whether you want to give Yoga, Pilates or resistance training a try, MSC Seaview will offer classes for every fitness level and ability.
Making the most of the Mediterranean sunshine will be easy throughout the day, thanks to the uniquely designed promenade. Packed with shops, eateries and places to grab a drink, this area turns into a lively entertainment zone in the evenings.
When the sun goes down, guests will have plenty of night-time entertainment to keep them laughing and dancing throughout their cruise. From Broadway-style shows in the onboard theatre to live music from bands, vocalists and classical performers, every style will be catered for. Passengers can also enjoy live comedy, or join in with karaoke and music contests.
The Largest, Most Interactive Water Attraction at Sea
Almost identical to sister ship MSC Seaside, MSC Seaview will also feature the multi-story Forest Aquaventure and Adventure Park. The largest and most interactive water attraction at sea, the Forest Aquaventure and Adventure Park is an expansive water world, packed with fun slides, courses and areas for young children.
The huge park's main features are five mega water slides, including two high-speed racing slides for daredevils and the "slide-boarding" technology – only found on MSC Seaside Class ships. There is also an AquaPlay™ area for tots to play, making this a family-friendly water park for all ages.
Not only do MSC Seaside and MSC Seaview feature the largest water attraction at sea, they also boast the longest zipline. The 130-metre zipline, which takes those brave enough high above the deck for incredible views, is the longest of any cruise ship in the world.
First-Class Facilities for All-Ages of the Family
Sharing the same first-class facilities as sister Seaside Class ship, MSC Seaview will feature three unique pools, a wide range of sports and leisure facilities, as well as a world-class spa, 5D movie theatre and bowling alley.
Alongside an exclusive pool for MSC Yacht Club Members, guests can take a dip in one of MSC's three beautifully designed pools. Take a panoramic lift to the South Beach Pool on Deck 7, where uninterrupted sunbathing and stunning views await, or head for the laidback beach vibes of Deck 16's Miami Beach Pool. If the Mediterranean weather should turn, the gorgeous Panorama Pool – with its breathtaking sea views – also features a magrodome roof, making it perfect for all-weather swimming.
Work off some of the calories from MSC Seaview's delicious dining venues with a session in the state-of-the-art gym. Passengers will find the fitness centre well-equipped with Technogym cardio and strength-training machines, as well as a wide range of fitness courses and training programmes. As MSC Cruises regulars will know, passengers can also expect to find a range of standard sports facilities onboard – from basketball to football courts, jogging tracks to squash and table tennis.
After a busy day of activities, guests can indulge in some "me-time" at the world-class MSC Aurea Spa. Combining traditional Balinese spa practices with modern techniques, passengers will find more than 20 different massage treatments to choose from. The luxury spa area also features a beauty salon and nail boutique, as well as a relaxing thermal space for complete peace and tranquillity.
Mirroring Seaside's design, Seaview will also feature the same full-sized bowling alley, as well as an F1 simulator and a huge 5D movie theatre.